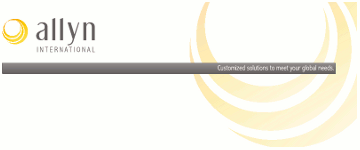 ALLYN INTERNATIONAL SERVICES is a privately held professional logistics firm. We have regional headquarters in Fort Myers - Florida (USA), Shanghai (China) and Prague (Czech Republic). We are dedicated to providing high quality, customer centric services and solutions for the global marketplace. Our core products include transportation management, logistics sourcing, supply chain consulting, tax management and customs compliance.
For our EMEA headquarters in Prague (Zizkov, P3) we are looking for:
EMEA Logistics Manager
EMEA Logistics Manager is responsible for managing logistics operations and sourcing services in Europe, the Middle East, and other regions as assigned. The Manager has overall responsibility for a number of assigned customer accounts and needs to ensure: excellent customer service, superb clients' relations, and satisfaction, healthy profitability levels, productivity improvements, adequate staffing, high employee engagement, employees training, and development. The Manager also surfaces and implements growth opportunities for our services and new clients. There will be a number of Team Leaders or Managers reporting to the Logistics Manager.

Responsibilities:
Responsibility for billing, profit and loss, and contract renewals for applicable clients
Ensure client satisfaction and superb relations
Publish metrics measuring client, team, and individual performance
Manage staffing
Surface and implement productivity improvements
Identify and manage technological advancements
Periodically travel to clients locations
Suggest improvements relative to workplace
Facilitate prompt issue resolution
Supervise employees in regards to:
Timesheets and time off
Performance reviews and Personal Development Plans (PDP's)
Disciplinary action and write-ups
Policy compliance
Coaching
Employee growth
Employee engagement
Manage special projects
Support marketing efforts such as article publications, launching campaigns
Actively participate in sales, marketing, and business development
Any additional tasks related to the Scope of Work agreed with the client
Perform Allyn core values, actively promote teamwork and represent Allyn according to company culture
Requirements & Qualifications:
Minimum Bachelor degree or equivalent, preferred in business, logistics or supply chain management.
Previous education and minimum of three years of operational experience in the industry.
Previous experience in management or team leader position.
Very good communication skills in English, another major European language can be advantageous with communication with the client
MS Office – notably good command of MS Excel and Access basics
Goals and people-oriented
Ability to grow other people skills, mentoring, and coaching skills
Ability to delegate and follow up, self-discipline
Capability to see things in context
Positive attitude and willingness to continuously expand the knowledge base
Ability to work under stress
Decision and problem-solving skills
Flexible and open-minded
Analytical and presentation skills
Initiative
The first contract is for one year with possible extension - it is our policy.
If you meet these criteria and are looking for an international but human-size & dynamic company - please send your CV in English.
---
Informace o pozici
Společnost

Allyn International Services s.r.o.

Address

Required education:

Bachelor's

Required languages:

English (Advanced)

Benefits:

Cell phone, Notebook, Contributions to the pension / life insurance, Transport allowance, Meal tickets / catering allowance, Holidays 5 weeks, Refreshments on workplace, Contribution to sport / culture / leisure, Sick days, Occasional work from home, Corporate events, Foreign business trips

Listed in:

Transport, logistics and supply, Top management

Employment form

Employment form:

Full-time work

Contract duration

Contract duration:

Limited (temporary)

Employment contract

Employment contract:

employment contract

Employer type:

Employer
---