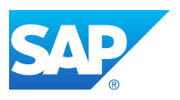 HR Global Mobility Consultant Job
COMPANY DESCRIPTION
SAP started in 1972 as a team of five colleagues with a desire to do something new. Together, they changed enterprise software and reinvented how business was done. Today, as a market leader in enterprise application software, we remain true to our roots. That's why we engineer solutions to fuel innovation, foster equality and spread opportunity for our employees and customers across borders and cultures.
SAP values the entrepreneurial spirit, fostering creativity and building lasting relationships with our employees. We know that a diverse and inclusive workforce keeps us competitive and provides opportunities for all. We believe that together we can transform industries, grow economics, lift up societies and sustain our environment. Because it's the best-run businesses that make the world run better and improve people's lives.
As the leading technology company for digital businesses, SAP serves nearly 300,000 customers in 190 countries. 80 million users make SAP the largest enterprise cloud company in the world, along with business networks that transact nearly $1 trillion annually.
The Global Business Services at Human Resources is an organization with 800+ employees, delivering end-to-end HR operations to all SAP locations worldwide from two shared services centers in Prague and Manila.
Our highly engaged teams specialize in processing queries from employees, as well as delivering HR processes comprising of all phases of the employee life-cycle, e.g. Talent Acquisition, Onboarding, Data Management, Payroll, Learning and Career Development, Mobility, and Off-boarding. By joining us, you will find a highly skilled workforce collaborating across the globe on common topics, engaged colleagues creating value by simplifying and optimizing operations, and one motivated global team working together towards shared goals.
ABOUT THE ROLE
Would you like to support SAP employees who are moving abroad? Become a member of SAP HR Global Mobility Consultants Team.
The HR Global Mobility Consultant provides line managers, program/project managers, employees, HR Business Partners, Recruiters and Mobility Specialists guidance regarding Mobility services in general and consults on specific Mobility cases.
EXPECTATIONS AND TASKS
Supports design and implementation of internal cross border staffing processes in close alignment with the finance and consulting organization.
Supports consulting projects with country expertise and drives relocation cases within SAP's Global Mobility policies and agreed upon service level agreements as a case manager.
Maintains an excellent, broad knowledge of Global Mobility topics, especially with regards to country specifics: immigration, social security, tax and permanent establishment risks. Identifies learning, training and networking opportunities within and outside the organization.
Acts as Country Expert for assigned countries and shares knowledge and expertise within the team and internal customers, including responsibility for proactive updates and input for the internal knowledge database and end-to-end ownership for Global Mobility cases within the area of accountability.
Responsible contact person for Line Managers, Program/Project Managers, Employees, HR Business Partners, Recruiters to consult on Global Mobility related matters and foster awareness of Global Mobility topics.
Escalates non-standard topics to the right people, includes all stakeholders in the consultation with the customer and finds solutions.
Finds solutions for non-standard cases, inclusive of seeking process exceptions according to Global Mobility guidelines and continuously provides feedback on improvements to global policy and ongoing process.
Provides advice and guidance as required by customers, colleagues and management to help aid business decisions.
Works closely with Mobility Consultants in other regions as well as Mobility Specialists.
Interacts with Mobility's Third-Party vendors for constant process improvements and optimization of the individual relocations
Must be attentive to detail and focused on the delivery of high-quality services to enhance customer experience. Must show a high level of proficiency in working in a global team environment and demonstrate flexibility and willingness to support other tasks as assigned.
ESSENTIAL COMPETENCIES
Fluent written and spoken English
Advanced level of French/German as advantage
Excellent communication skills (negotiation, de-escalation); both written and verbal
Ability to work with confidential information
Project management skills
Strong drive and time management, ability to decide and prioritize independently
Basic knowledge in domestic and or international taxation rules and an interest to broaden knowledge
Strong sense of urgency
Highly customer orientated
Strong ability to work in international & virtual teams
Flexible work style and ability to work under pressure
Strong business Acumen
Creativity and innovation
Excellent escalation management skills
Excellent presentation & rhetoric skills
EDUCATION AND QUALIFICATION
Bachelor's Degree/ Study of business administration with deeper HR knowledge or comparable experience
WORK EXPERIENCE
At least 2 years of experience in international HR consulting/ business administration
Customer oriented environment experience preferred
HR Global Mobility expertise
Consulting and customer service experience
Experience working in a virtual & multi-national team
WHAT YOU CAN EXPECT
Exciting career progression, a diverse work environment providing growth opportunities, learning & development possibilities, and an international business network for you to leverage.
Various and interesting work in brand new fancy offices directly at metro Nove Butovice
We believe every employee is a talent and we want to reach your full potential
Interesting non-working activities (volunteering, charity, sport events...)
Opportunities for professional growth in HR field

BENEFITS
Yearly bonuses, sick days paid and sick leaves fully refunded, flexible start/end of working hours, contributions to the pension/life insurance, meal tickets/ catering allowance, holidays 5 weeks, educational courses, training, cafeteria, contribution to sport/culture/ leisure, sick day, generous shares program, etc.
We are creating our future together by moving to the brand new and ultra-modern Metronom office building directly above the Nove Butovice metro station. The location encompasses SAP's vision for the perfect work-life balance by featuring a cinema, uniquely decorated relaxation rooms, free gym & fitness studio, parents' and kids' room, and many more exciting amenities.
#saphrsscareersprg
#RPSSCZ2018
#EXPSSCZ2018
#CZ2018
WHAT YOU GET FROM US
Success is what you make it. At SAP, we help you make it your own. A career at SAP can open many doors for you. If you're searching for a company that's dedicated to your ideas and individual growth, recognizes you for your unique contributions, fills you with a strong sense of purpose, and provides a fun, flexible and inclusive work environment – apply now.
SAP'S DIVERSITY COMMITMENT
To harness the power of innovation, SAP invests in the development of its diverse employees. We aspire to leverage the qualities and appreciate the unique competencies that each person brings to the company.
SAP is committed to the principles of Equal Employment Opportunity and to providing reasonable accommodations to applicants with physical and/or mental disabilities. If you are in need of accommodation or special assistance to navigate our website or to complete your application, please send an e-mail with your request to Recruiting Operations Team
Successful candidates might be required to undergo a background verification with an external vendor.
---
Informace o pozici
Společnost

SAP America

Address

Required education:

Secondary education or professional training with a school-leaving exam

Benefits:

Contributions to the pension / life insurance, Flexible start/end of working hours, Meal tickets / catering allowance, Holidays 5 weeks, Educational courses, training, Cafeteria

Listed in:

IS/IT: Application and system development, Human resources, HR Consultant

Employment form

Employment form:

Full-time work

Employment contract

Employment contract:

employment contract

Employer type:

Employer
---