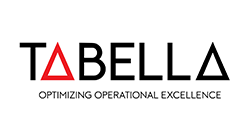 There's forever been a conflict between who makes a product successful: the advertisers/marketers or the operations who deliver the product.
Tabella clients don't face this dilemma. Tabella delivers on both fronts.
Optimizing Digital Operational Excellence.
Full-Stack Developer
We are looking for a Full-Stack Developer in Prague who is motivated to combine the art of design with the art of programming. Responsibilities will include translation of the UI/UX design wireframes to actual code that will produce visual elements of the application. You will work with the UI/UX designer and bridge the gap between graphical design and technical implementation, taking an active role on both sides and defining how the application looks as well as how it works.
RESPONSIBILITIES
Develop front end web application components based on designs.
Integrate data from various back-end services and databases.
Coordinate with back end and other server development teams in order to produce an end to end user experience.
Gather and refine specifications and requirements based on technical and functional needs.
Write well designed, testable and efficient code by using software development best practices.
REQUIREMENTS
Worked on high traffic customer facing web and mobile sites.
Well versed with UI/UX Designs and principles.
Experience building high performing responsive websites from ground.
Very strong JavaScript Programming Capabilities with on hands professional experience on any of the JavaScript frameworks
5+ years of experience with web fundamentals like as HTML, JavaScript, and CSS preprocessors like Sass or LESS and AJAX.
Strong JavaScript programming capabilities including use of JavaScript libraries and frameworks.
Experience in server-side application development in PHP and standard databases. API design and development.
BENEFITS
A competitive salary package reflecting skills and experience.
Challenging projects.
Option of further education and training.
Meal tickets.
25 paid days of holidays.
5 sick days.
Benefit Plus card (6.000CZK per year).
Xmas bonus (up to 50% of monthly base salary).
Modern offices with a fun zone.
Opportunity for professional growth.
Great international team.
Multi-sport card.
---
Informace o pozici
Společnost

Tabella s.r.o.

Address

Required education:

Education is not important

Required languages:

English (Proficient)

Benefits:

Bonuses, Meal tickets / catering allowance, Holidays 5 weeks, Cafeteria, Refreshments on workplace, Sick days

Listed in:

IS/IT: Consultations, analyses, and project management, IS/IT: Application and system development, Marketing, SW architect, Designer, Programmer, Web designer, Webmaster, Database specialist

Employment form

Employment form:

Full-time work

Contract duration

Contract duration:

Permanent

Employment contract

Employment contract:

employment contract

Employer type:

Employer
---