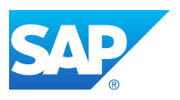 Demo Solutions Senior Specialist Job
Requisition ID: 188990
Work Area: Consulting and Professional Services
Expected Travel: 0%
Career Status: Professional
Employment Type: Regular Full Time
COMPANY DESCRIPTION
SAP started in 1972 as a team of five colleagues with a desire to do something new. Together, they changed enterprise software and reinvented how business was done. Today, as a market leader in enterprise application software, we remain true to our roots. That's why we engineer solutions to fuel innovation, foster equality and spread opportunity for our employees and customers across borders and cultures.
SAP values the entrepreneurial spirit, fostering creativity and building lasting relationships with our employees. We know that a diverse and inclusive workforce keeps us competitive and provides opportunities for all. We believe that together we can transform industries, grow economics, lift up societies and sustain our environment. Because it's the best-run businesses that make the world run better and improve people's lives.
Do you want to work for a company that is changing the nature of business by transforming business connections into smart cloud-based collaboration? We do this by delivering an unsurpassed experience to our customers, buyer and sellers, and we are looking for a team member to help take customer experience on the Ariba Network to the next level.
Global commerce today requires much more than scanning or faxing key documents such as purchase orders, invoices, and payment remittance. For better commerce, you must establish realtime electronic collaboration with your entire supply base on a global level, so you can dramatically compress the invoice and payment processing cycle, comply with contracts and regulations, achieve working capital breakthroughs that lower supply chain risk, and more. But few organizations can effectively target and onboard thousands of global suppliers. Ariba has this expertise, with outsource-service capabilities and self-service tools to automate the enablement process for any supplier anywhere in the world. We can help you match your vendors to existing Ariba Network suppliers and onboard new suppliers, or provide tools for you to manage the process on your own.
POSITION SUMMARY
The SAP Ariba Partner Demo Consultant is mainly responsible for working with partners across the globe and provide an extensive support for solution adoption and innovations of SAP Ariba modules. Person will work in configuring private demo realms of partners, support them throughout their contract period for every solution including integration aspects. Support will include functional/technical/best practice and any other areas of deployments. Areas of support is not restricted to Ariba solutions, but will extend to best practices, domain expertise, pre-sales support, and other areas of sales activities and an extended support to Partner Eco System
KEY RESPONSIBILITIES
Responsible for the end to configuration and adoption of Ariba solutions and Innovations for Private Demo realms of partners. Disciplined planning & support process to expand their business with SAP Ariba. Working with other teams of Partner Eco system to develop the partner system and its developmental effort to enable partners.
Configuring Private Demo Realms as per Ariba guidelines.
Understands the partner's basic demo structure and key drivers which influence their demo business cases and help to build them.
Understanding of Partner Capabilities across SAP Ariba Offerings.
Works/Setting up different demo scenarios as per their sales/pre-sales activities.
Documents partner's business cases and best practice scenarios.
Proactively prepare and lead partners in solution adoptions and innovation features.
Collaborates with internal SAP Ariba teams (Field Consulting, Ariba Network, Shared Services, etc) acting as a strategic liaison between the partner and SAP Ariba in order to build and adopt any new releases.
Proactively develops active and long-term partner relationships in the partner organization so that any enablement activities required can be fulfilled by you or by Eco System and add value in revenue recognition.
Bring in new ways/Ideas of configurations, standardising configurations methods and helps to reduce the lead time to deliver realms.
Partner Eco System:
Collaborate with different teams within Eco system to build a strong knowledge base, bring in ideas of Partner Development and Eco system.
Collaborate with Internal Eco system teams to work on different partner strategies.
Manage the enablement of partners if required.
Updates and communicates key partner changes -- for example, new partner executives or organizational structure, new SAP Ariba solutions authorizations, investments, etc. -- to relevant SAP Ariba systems and teams
Responsible for developing and contributing to Demo Solutions team with different ideas on solution adoption.
Responsible for developing domain expertise, building Best Practices, Business cases, test scenarios, training materials across all solutions for partners and for internal use.
General Partner Management
Responsible for the overall success of Partner Eco System, and for partner compliance with SAP Partner Edge program requirements and SAP's Channel Operating Policies.
Effectively trains partner's delivery teams to become experts on delivering the SAP Ariba value messaging (overall and by solution)
Guides partner to work effectively within SAP Ariba's innovations and solutions.
Diagnoses and prescribes corrective action for underperforming partners.
REQUIREMENTS
5+ years working experience in the software industry
5+ years in a partner/customer facing role (ex. Customer Service, Consulting, Development); experience working at a SAP Ariba partner is a 'plus'
Exposure to Functional and technical skills of Ariba Modules.
Exposure to Ariba Integration skills with SAP ERP/S4 HANA and other third-party tools is preferred
Proficient knowledge of Ariba new Innovations/solutions
Demonstrated partner management skills.
Relevant experience in cloud / Procurement/ Supply Chain topics
Strong analytical competencies
Effective communication and presentation skills.
High energy - brings innovative ideas to the team and champions best practices
Proven capability to work in a team and collaborate; with independent accountability
#CZ2018
WHAT YOU GET FROM US
Success is what you make it. At SAP, we help you make it your own. A career at SAP can open many doors for you. If you're searching for a company that's dedicated to your ideas and individual growth, recognizes you for your unique contributions, fills you with a strong sense of purpose, and provides a fun, flexible and inclusive work environment – apply now.
SAP'S DIVERSITY COMMITMENT
To harness the power of innovation, SAP invests in the development of its diverse employees. We aspire to leverage the qualities and appreciate the unique competencies that each person brings to the company.
SAP is committed to the principles of Equal Employment Opportunity and to providing reasonable accommodations to applicants with physical and/or mental disabilities. If you are in need of accommodation or special assistance to navigate our website or to complete your application, please send an e-mail with your request via apply button "Reply".
Successful candidates might be required to undergo a background verification with an external vendor.
Additional Locations:

Job Segment: SAP, Supply, Procurement, Cloud, Testing, Technology, Operations
---
Informace o pozici
Společnost

SAP America

Address

Required education:

University

Listed in:

IS/IT: Consultations, analyses, and project management, Technology and development

Employment form

Employment form:

Full-time work

Employment contract

Employment contract:

employment contract

Employer type:

Employer
---