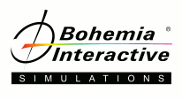 Bohemia Interactive Simulations (BISim) is a global software company at the forefront of simulation training solutions for military and civilian organizations. BISim develops high-fidelity, cost-effective technologies for tactical military training. We apply game-based technology to a range of breakthrough, military-specific training and simulation software products.
Bohemia Interactive Simulations has established offices in Australia, Czech Republic, United States, United Kingdom and Poland.
UI/UX Designer
DESCRIPTION:
We are a growing team based in Prague (Czech Republic), developing world leading game-based military simulations for major NATO powers and their allies. We are constantly looking for ways to advance the whole industry, using the latest technologies and trends (such as whole world simulation, virtual realityand motion tracking).
We are looking for a Mid UI/UX Designer to join our team! As a member of our global UX, you will work with our cross-functional development teams, product owners, stakeholders and front end developers to implement functional and visually compelling UIs for our products.
You will be responsible for owning the UX process from beginning to shipped product on multiple projects and being an advocate for UX across our global organization. While we have a UX process in place, it is growing and evolving and we are looking for someone that can bring industry best practices with them to contribute to our growing UX need. You will be supported in this effort by colleagues with a strong understanding of our company, our products, and our current development methodologies.
Our unique environment is better than developing AAA games or boring business software:
We give you freedom and responsibility to do things well, support you, train you, and teach you.
We have a relaxed environment where we aim not to limit our staff with too many regulations. We trust you.
We offer a wide variety of work and a crunch / overtime free environment due to our management standards and business model.
You will join a growing company with a lot of exciting opportunities and new challenges.
Our business has a worthy cause, the work we do has an actual impact on making the world a safer place.
REQUIREMENTS:
Must be able to make usable game UI in a fast paced environment!
As a UX designer, you will own the UX process on multiple projects. On each project, you will work with the product owner, dev team, and stakeholders to refine requirements, use cases and wireframes. During the project life-cycle you'll iterate the designs with sketches, wireframes and click-able prototypes/mockups. At the end you'll create polished visual design and deliver it to front end developers who'll implement it. We have an existing ecosystem of products, features and a style guide which you must be able to work within and improve. You will need flexibility and creativity, as projects can range from a simple set of infantry features to a complex armored fighting vehicle simulator. No two projects will be the same, always bringing a new challenge!
Do you have what it takes?
3+ years of experience as a UI or UX designer for software, games, web, or mobile apps
Good knowledge of UX industry standards and processes
Ability to create complex product user experience that supports users in performing tasks while complying with business requirements and working with technical constraints
Skill in graphic / visual design
Ability to work under tight deadlines, making tough decisions about when a design is "good enough"
Excellent communication skills, with the ability to present ideas and specifications to a broad range of team members from different disciplines and stakeholders
High level of initiative, self-direction, and self-teaching
Familiarity with UX tools such as Invision, Axure, Balsamiq, Adobe Creative Suite, etc
Ability to do rapid prototypes and interactive prototypes
Ability to design concepts through brainstorming, collaboration and prototyping
Extra credit if you have experience in any of the following:
Video game development (especially first person shooters)
User research
Military knowledge or interest
Style guide creation, maintenance, or usage
Creating icons
---
Informace o pozici
Společnost

Bohemia Interactive Simulations k.s.

Adresa

Požadované vzdělání:

Středoškolské nebo odborné vyučení s maturitou

Požadované jazyky:

Angličtina (Pokročilá)

Benefity:

Bonusy/prémie, Dovolená 5 týdnů, Vzdělávací kurzy, školení, Občerstvení na pracovišti

Zařazeno:

IS/IT: Vývoj aplikací a systémů

Typ pracovního poměru

Typ pracovního poměru:

Práce na plný úvazek

Délka pracovního poměru

Délka pracovního poměru:

Na dobu neurčitou

Typ smluvního vztahu

Typ smluvního vztahu:

pracovní smlouva

Zadavatel:

Zaměstnavatel
---