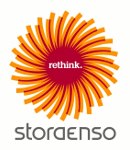 Stora Enso is a leading provider of renewable solutions in packaging, biomaterials, wooden constructions and paper on global markets. Our aim is to replace fossil based materials by innovating and developing new products and services based on wood and other renewable materials. See more: www.storaenso.com.
Collaboration Operations Specialist
Description
Stora Enso IT is looking for a motivated and ambitious person for an assignment in the Central Application Operations team. The successful candidate's main responsibility will be managing and running the Collaboration support services (MS SharePoint, Dotcom website, CRM). This includes supporting site owners with problem solving, site planning and configurations as well as management and improvements of support processes. The person will work closely with 2nd level support desk; managing and to an extent steering their work. He/she will report to the Manager, Central Application Operations.
The primary tasks include:
• Incident management, SLA follow-up and escallations
• Communication coordinator and responsible for support operations performance
• License handling, owner of 3rd party contracts, relationship management with suppliers
• Maintain and create training documentation and manuals, coordinate and run training sessions
• Detect support service improvements areas and propose solutions
• Planning of sevice windows
• Work according to and improve life cycle management processes
• Support the creation and reporting of KPIs.
• Participate in and support SharePoint and collaboration related projects
Requirements
The ideal candidate should have the following skills and competences:
Experience of working with MS SharePoint/Dynamics CRM or related services, Sitecore would be of an advantage
Service minded person which enjoys being in direct contact with end users from all over the world.
Enjoys trouble shooting and finding best solutions
Good communication and documentation skills
Eager to take initiative, accept responsibility and able to work both independently and within an international team
Fluent English in speaking and writing
Experience in running operations on variety of services and / or ITIL certifications are seen as strong qualifications

This position offers a variety of interesting challenges and excellent opportunities to meet and support internal colleagues from all different areas within Stora Enso.
---
Informace o pozici
Společnost

Stora Enso Wood Products Ždírec s.r.o.

Address

Required education:

Bachelor's

Required languages:

English (Advanced)

Benefits:

Bonuses, Cell phone, Notebook, Contributions to the pension / life insurance, Flexible start/end of working hours, Meal tickets / catering allowance, Holidays 5 weeks, Educational courses, training, Cafeteria, Refreshments on workplace, Occasional work from home, Foreign business trips

Listed in:

IS/IT: Consultations, analyses, and project management, IS/IT: System and HW administration, IS/IT: Application and system development

Employment form

Employment form:

Full-time work

Employment contract

Employment contract:

employment contract

Employer type:

Zaměstnavatel
---