Edwards Lifesciences AG, organizační složka
Edwards Lifesciences is the global leader in patient-focused medical innovations for structural heart disease, as well as critical care and surgical monitoring. Driven by a passion to help patients, the company collaborates with the world's leading clinicians and researchers to address unmet healthcare needs, working to improve patient outcomes and enhance lives. Our Prague subsidiary has over 300 staff from more than 33 countries and is still growing. Join Edwards Prague!
A few figures about Edwards Prague
Edwards Prague established
new colleagues hired in 2020 in Prague
employees in the Czech Republic
Why to join Edwards?
Joining Edwards means innovating, pushing boundaries and being creative while always putting patients first. It means solving challenges with colleagues who share your sense of urgency, optimism, and enthusiasm, colleagues who are just as focused on testing their limits and taking ownership. And it means that you will be empowered to get the job done by taking charge of your work, your health, and your career.
Professional development is important to us that you have the support you need to continually learn and develop. And we've made it easier than ever for you to take advantage of learning opportunities across Edwards by bringing content together in a single platform. Through the global Edwards University, we provide you with tools to grow professionally and personally, while tuition assistance makes it possible to take advantage of continuing education and degree programs outside of Edwards.
Culture! Innovation is at the core of Edwards. Without it, we wouldn't be able to produce the life-saving products and therapies that transform lives around the world. That's why we surround ourselves with people who aren't afraid to question the status quo or express a different point of view.
Benefits - as we empower you each and every day in your work, we also empower you to take ownership of your health and health care decisions, as well as your financial goals. During the past months, we delivered huge effort to set complex benefits portfolio meeting our employees requirements. Discover our wide benefit portfolio:
Stability – pension insurance, life & disability insurance, employee stock purchase plan program, seniority award – a bonus for long term cooperation;
Meal & Refreshments – contribution to lunch vouchers, fresh fruits in the office, lunch & learn – get to know our products, departments, processes and have lunch together;
Wellness – on-site gym, lectured sport lessons, massages, educational events, volunteer program and much more;
Health – preventive health events; sick leave compensation, sick days;
Cafeteria – spent the budget based on your preference - MultiSport Benefit Card available there;
Holidays – 5 weeks and have fun together as well;
Regular leisure events – mountain & vineyard weekend, canoeing, laser game, culture events, x-mas party.
LIFE IS NOW. JOIN EDWARDS PRAGUE.
Jak pracujeme?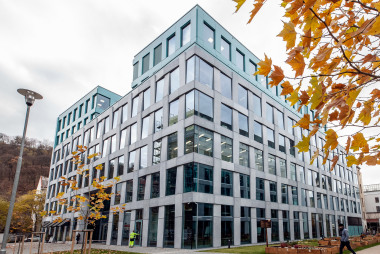 Praga Studios - Home of Edwards Lifesciences in the heart of Prague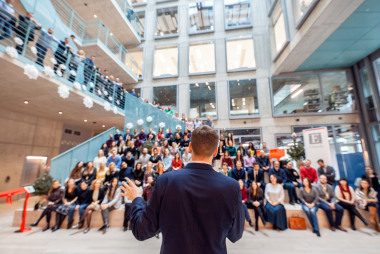 Edwards family all together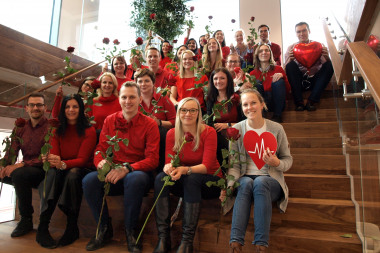 Wearing red to support heart-related disease awareness
Our latest job opportunities
Edwards Lifesciences AG, organizační složka
---
Edwards Lifesciences AG, organizační složka
---
Edwards Lifesciences AG, organizační složka
---