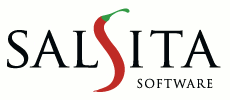 Salsita is a successful, fast-growing software development consultancy headquartered in Prague with a sales and marketing office in Silicon Valley. Our mission is to create top-quality custom software solutions for our international clients. We are dedicated to continuous improvement of our agile development process and use of the latest technologies and tools.
At Salsita we are at the leading edge of the most important trend in modern software development: the ongoing migration from desktop apps towards device-agnostic apps using web technologies.
Full Stack Developer
Our primary focus is on the rapidly growing area of JavaScript software engineering: building complex software architectures using JavaScript. It doesn't matter to us if you don't know JavaScript. We are looking for top-notch programmers regardless of whether prior experience is in C++, Java, C#, Python or other.
We will train you in the intricacies of the JavaScript language as well as the latest JavaScript platforms and frameworks such as React, Redux, Node.js/IO.js, and AngularJS. Naturally we are thrilled when we find qualified candidates who already have JavaScript experience, but it is not a pre-requisite for joining our team.
Requirements:
Our only firm requirement is that you must be an exceptionally talented software developer with the ability and desire to work on challenging projects that require you to constantly master new skills and technologies. You should be able to design an elegant API and software architecture for a complex system. Most of our developers have a university degree in Computer Science.
What you can expect:
Companies like Salsita live and die on the quality of their team, and we offer every benefit we can think of to attract the best software developers available. That means no fixed working hours, no useless bureaucracy and flexible work-from-home and vacation policy. Our awesome spacious offices are in a former 18th century palace in central Prague, minutes away from the metro and numerous tram and bus lines. No cube farm, grey carpets or styrofoam ceilings for us!
Every new developer gets a generous budget and can select the hardware of their choice. We also offer twice yearly bonuses, free language lessons and frequent in-house activities to foster the exchange of ideas and expertise among team members. We combine a mature and successful business with the benefits of a startup, including a kitchen packed with healthy snacks and a chillout room with a piano, foosball and ping-pong.
---
Informace o pozici
Společnost

Salsita, s.r.o.

Adresa

Požadované vzdělání:

Vysokoškolské / univerzitní

Požadované jazyky:

Angličtina (Středně pokročilá)

Benefity:

Bonusy/prémie, Notebook, Flexibilní začátek/konec pracovní doby, Stravenky/příspěvek na stravování, Vzdělávací kurzy, školení, Občerstvení na pracovišti, Možnost občasné práce z domova, Firemní akce, Individuální rozvržení pracovní doby, Možnost si napracovat hodiny

Zařazeno:

IS/IT: Vývoj aplikací a systémů, Programátor

Typ pracovního poměru

Typ pracovního poměru:

Práce na plný úvazek, práce na zkrácený úvazek

Délka pracovního poměru

Délka pracovního poměru:

Na dobu neurčitou

Typ smluvního vztahu

Typ smluvního vztahu:

pracovní smlouva, práce na živnostenský list/IČO

Zadavatel:

Zaměstnavatel
Pozice je vhodná pro absolventy.
---