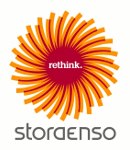 Stora Enso is a leading provider of renewable solutions in packaging, biomaterials, wooden constructions and paper on global markets. Our aim is to replace fossil based materials by innovating and developing new products and services based on wood and other renewable materials. See more: www.storaenso.com.
Web Applications Developer
Description
We are Ostrava based, growing team developing WEB and mobile applications.
Our team have developed WEB shops for Stora Enso customers and end consumers located in Europe, Asia, Australia and we are going to develop solution for American customers as well.
Our team also participate on development of Internet of Things (IoT) solutions, developing prototypes and production systems.
To increase our development capacity we are looking for new colleagues, interested in actual trends and willing to learn and to use up to date technologies.
The successful applicant will carry out the following main tasks:
Development, testing and 2nd level support of WEB and/or native mobile applications
Responsible to document all programming work in a smart way
Administrative tasks according to IT processes
The developer will be member of Ostrava (Czech Republic) SDCC team and report to eSolution Development Team Leader.
This position offers an opportunity to work in an international environment. The position holder will have local unlimited labor contract.
Qualifications
The ideal candidate should have the following skills and competences:
Essential:
University or high school degree in IT
Capability to work in international teams
Good knowledge and experience - software/programming: ASP.NET, .NET, MVC, C#, JavaScript, SQL DBs
Previous experience with development of WEB applications
Ability to work under pressure
English language (minimally on communicative level)
Willingness to travel abroad
Desirable:
Angularjs
Familiar with IT processes: ITIL or CMMI or equivalent
Minimally 1-3 years practice or relevant working experience in requested area
Knowledge of sales and distribution business processes is an advantage
---
Informace o pozici
Společnost

Stora Enso Wood Products Ždírec s.r.o.

Address

Required education:

Secondary education or professional training with a school-leaving exam

Required languages:

English (Intermediate)

Benefits:

Bonuses, Cell phone, Notebook, Contributions to the pension / life insurance, Flexible start/end of working hours, Meal tickets / catering allowance, Holidays 5 weeks, Educational courses, training, Cafeteria, Refreshments on workplace, Occasional work from home, Corporate Events, Foreign business trips

Listed in:

IS/IT: System and HW administration, IS/IT: Application and system development, Programmer, Web designer

Employment form

Employment form:

Full-time work

Contract duration

Contract duration:

Permanent

Employment contract

Employment contract:

employment contract

Employer type:

Zaměstnavatel
---